Möller's – Natural Norwegian health since 1854
Norway's legendary arctic cod fishing industry in Lofoten has been the backbone of this area's existence for thousands of years and is also the foundation of Möller's Cod Liver Oil.
Read more about Möller's history here
Lofoten – a spectacular place
Lofoten, an archipelago in the Nordland county of Norway within the Arctic Circle, is not only famous for its fishing and cod liver oil production, but also for its beautiful white beaches, majestic mountains, many islands and world-famous fjords. Tourists flock here to go hiking in the mountains, boating, fishing and swimming, surrounded by breathtaking nature and wildlife such as killer whales and sea eagles. Many people also go to Lofoten for the chance to experience the spectacular Northern Lights or the Midnight Sun. Cod liver oil tasting and visits to small local cod liver oil manufacturers are also popular attractions in Lofoten!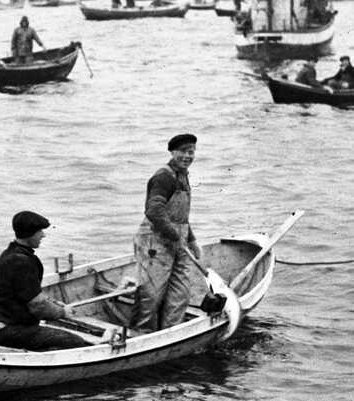 Cod liver oil in Lofoten
The cod liver oil business in Norway was developed from cod liver oil factories in Lofoten after pharmacist Peter J. Möller founded Möller's in 1854. Möller noted that along the Norwegian coastline, where people took cod liver oil, there was a low incidence of illness. With his entrepreneurial mind, he saw the opportunity to spread the health-promoting effects of cod liver oil to other parts of the country. He then worked on spreading his steam melting method for extracting cod liver oil along the coast. 
In Lofoten, the population has been fishing and producing cod liver oil for as long as people can remember. The seasonal fishing that takes place from January to April is the most important. According to legend, even the Vikings drank cod liver oil, albeit in a slightly different way than we do today. During the Middle Ages, the oil was made from fermented fish and this oil prepared the Vikings for their next trip. Fresh cod and the dried fish nourished the Vikings, financed their expeditions and enabled their conquests.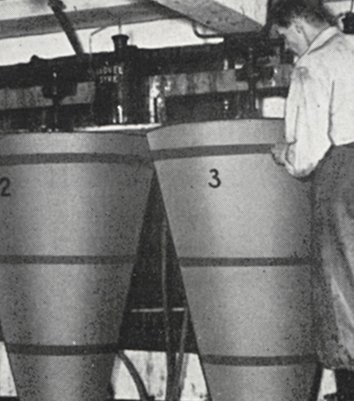 Sustainable cod liver oil production
After Peter Möller introduced his revolutionary new method for cod liver oil production in 1854, the result was a golden medicinal cod liver oil with a fresh taste and improved quality. At this time, cod liver oil production was already sustainable – around 50% of the fat in the liver was used for medicinal cod liver oil and the rest for other purposes. 
To this day, cod liver oil is part of a cycle in which nothing goes to waste. The oil is a natural by-product of dried fish production, among other processes. It is extracted from the fish liver, which otherwise would have been disposed of, and then sent to the cod liver oil factory.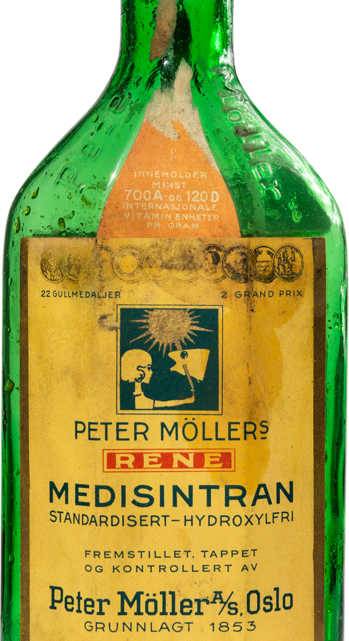 The iconic green bottle
As a quality assurance measure, only Peter Möller had the right to bottle cod liver oil in bottles labelled "Peter Möller". In recent years, the glass bottle became the dark green one that we recognise today as the iconic Möller's Cod Liver Oil bottle. 
The bottle's shape and colour are the most significant characteristics of Möller's Cod Liver Oil. Then comes the brand name, on a green background, the round label with the girl, the cod and the sun. Together with its quality assurance, these elements have helped make the brand well known beyond the borders of Norway.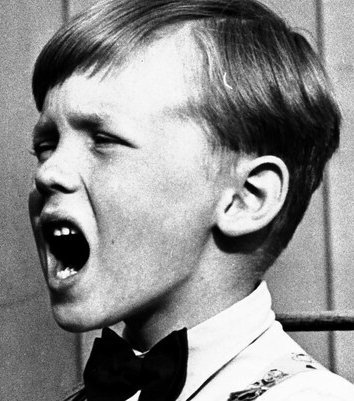 Cod liver oil keeps you healthy
Already back in 1645 there was evidence that cod liver oil had health-promoting effects.  Starting in the 1930's, when cod liver oil became part of the school cafeteria offering, as well as part of breakfast in Oslo and Sigdal, the Norwegians have been taking their daily tablespoon of cod liver oil. Parents and grandparents remember school breakfasts when they had to line up to get a spoonful of this "golden oil". The younger generations might remember fish liver oil capsules – launched in 1983. Today there are even more ways to take it – so that both adults and children can get enough omega-3 in the way they prefer.