Omega-3 with magnesium and vitamin C and D. For an active body throughout life.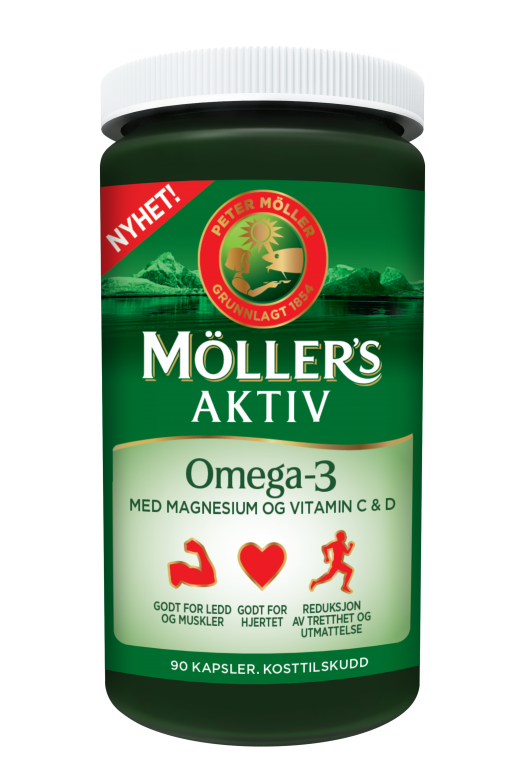 Content | in 2 capsules
High concentrated fishoil
1240 mg
Omega-3 fatty acids total
800 mg
Möller's Active is for those who want to keep an active body and lifestyle – throughout life. It's no secret that it's important to take care of your body and mind with a healthy and balanced diet, but also through physical activity and exercise. Möller's Active supports you in this.
Good for joints and muscles
Möller's Active contains magnesium and vitamin D, which contribute to maintaining normal bone structure and muscle function. It also contains vitamin C, which contributes to the normal formation of collagen. Collagen supports the normal functioning of the cartilage in your joints.
Reduction of fatigue
Magnesium contributes to the reduction of fatigue.
Good for the heart, brain and vision
Möller's Active contains omega-3 essential fatty acids from fish. The fatty acids DHA and EPA contribute to the normal functioning of the heart*. DHA also contributes to maintaining normal brain function and vision**. Möller's brand is Norway's number 1 omega-3 brand***.
In addition to being good for joints, bones and muscles, vitamin C and D also contribute to a normal, healthy immune system.
*The beneficial effect is obtained by a daily intake of 250 mg of EPA and DHA.
**The beneficial effect is obtained by a daily intake of 250 mg of DHA.
***In the sum of grocery and pharmaceutical channels. Source of data: 01850179 NielsenIQ Norway Grocery, brand "Møller's" Orkla Health segment "Omega-3" (client specific), value sales and volume sales, Full Year 2020 (week ending 52 2020) and Farmastat Jan-Nov 2020.
Ingredients
Fish oil concentrate, gelatine (bovine), magnesium oxide, L-ascorbic acid (vitamin C), emulsifier (mono and diglycerides of fatty acids, soya lecithin), surface treatment agent (beeswax), dye (iron oxides and hydroxides, brilliant blue FCF), carbon dioxide (carbon dioxide).