Highly concentrated omega-3 capsules with a mild peppermint aroma – no aftertaste guaranteed due to the anti-reflux technology used in their production.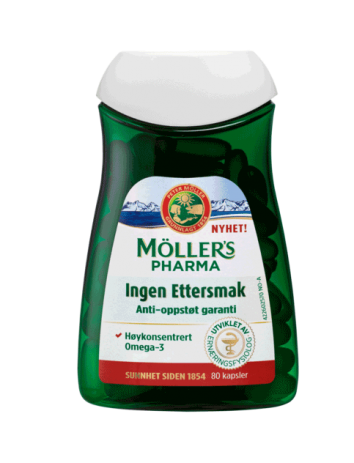 Content | In daily dose (2 capsules)
1 gram omega-3
Möller's Omega-3 Anti Reflux fish oil capsules contain 1 gram of omega-3 fatty acids per daily dose (two capsules). The important omega-3 fatty acids EPA and DHA contribute to normal functioning of the heart*. DHA contributes to the maintenance of normal vision and brain function**. Möller's brand is Norway's number 1 omega-3 brand***.
Anti-reflux guarantee – "Omega-3 fish oil without the aftertaste of fish"
Regular omega-3 capsules dissolve in the stomach, which can often result in unpleasant reflux and aftertaste. Our anti-reflux capsules dissolve in the intestine, thus preventing the fish aftertaste.
With a natural, pleasantly mild peppermint aroma.
Ingredients
Fish oil concentrate (triglycerides), gelatine (bovine), binding agent (glycerol), surface treatment agent (shellac, carboxymethyl cellulose, talcum, ammonium hydrogen carbonate, coconut oil), antioxidant (tocopherol rich extract), aroma (peppermint).
*Beneficial effect is achieved by a daily intake of 250 mg EPA and DHA.
**Beneficial effect is achieved by a daily intake of 250 mg DHA.
***In the sum of grocery and pharmaceutical channels. Source of data: 01850179 NielsenIQ Norway Grocery, brand "Møller's" Orkla Health segment "Omega-3" (client specific), value sales and volume sales, Full Year 2020 (week ending 52 2020) and Farmastat Jan-Nov 2020.