Vegan Society certified 100% plant-based omega-3 and vitamin D3 from algae – ideal nutritional supplement for vegans, vegetarians and flexitarians.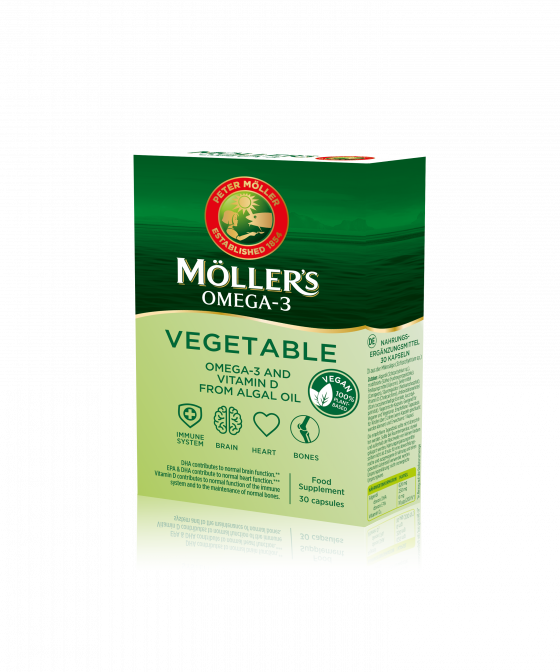 Content | in 1 capsule
Vitamin D3 (vegan)
10 µg (200%*)
Omega-3 is an essential nutrient for our bodies. Unfortunately, the body does not produce it on its own, so we need to supply omega-3 through diet. It can be challenging to get enough if you exclude and/or reduce animal produce in your diet. Möller's omega-3 from algae contains the essential fatty acids DHA and EPA. DHA and EPA contribute to normal heart function*, while DHA contributes to maintenance of normal brain function and normal vision**. Maternal intake of DHA contributes to normal brain and eye development of the foetus and in breastfed infants***. Our product also contains 100% plant-based vitamin D3 with high biological activity: good for the bones, teeth, muscles and immune system.
Daily recommended dose is 1 capsule per day.
What is Omega-3 from algae?
Vegetable vitamin D3 has traditionally been extracted from lichen. However, there is now an even more sustainable way of obtaining vegan vitamin D3 – from algae. Algae oil is sourced via an algal fermentation process using Schizochytrium sp, which is a microalgae. The oil is mechanically extracted from the microalgae and then refined. Algae oil is categorised as a "novel food", meaning it does not have a history of consumption or is produced by a method not previously used for food.
Fun Fact: Did you know that the capsules are not green, as you may expect – they look exactly like regular omega-3 capsules!
Sustainability
From 2021, the Möller's Omega-3 capsules from algae have been granted the Vegan Society Flower – one of the highest recognized vegan certifications globally. This provides a guarantee to our consumers about the vegan credentials of this product.
The product is packed in a sustainable FSC cardboard box.
FSC is a global non-profit organisation that sets the standards for responsibly managed forests, both environmentally and socially.
When a product bears the FSC logo, you can be sure it's been made with wood from responsible sources. In this way, FSC certification helps forests remain thriving environments for generations to come, by helping you make ethical and responsible choices at your local supermarket, bookshop, furniture retailer and beyond.
Ingredients
Algae oil, modified starch (hydroxypropyl starch – E1440), binding agent (glycerol – E422), gelling agent (carrageenan – E407), acidity regulator (disodium phosphate – E339 (ii)), cholecalciferol, antioxidant (tocopherol-rich extract – E306, ascorbyl palmitate – E304 (i)).
*The beneficial effect is achieved by a daily intake of 250 mg EPA and DHA.
**The beneficial effect is achieved by a daily intake of 250 mg DHA.
***The beneficial effect is obtained with a daily intake of 200 mg of DHA in addition to the recommended daily intake for omega-3 fatty acids for adults, i.e.: 250 mg DHA and EPA.