Möller's Pharma Omega-3 D+ is a rich, liquid cod liver oil with a high dose of Vitamin D.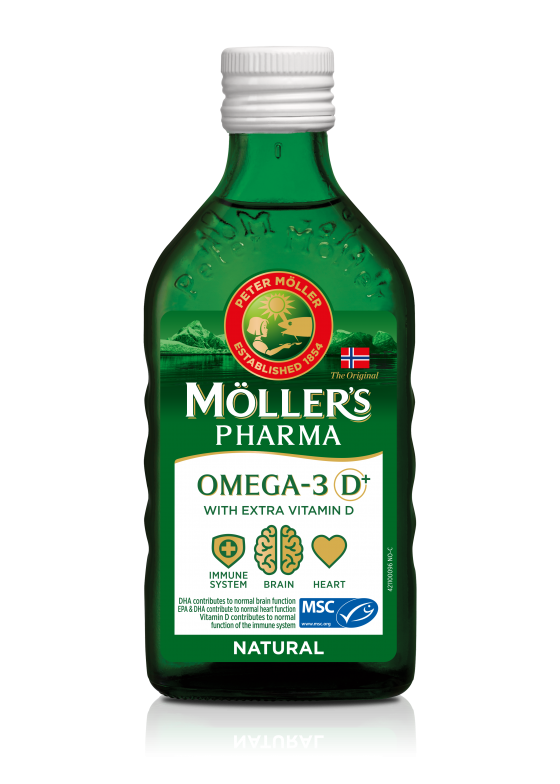 Content | in 5 ml
Omega- 3 fatty acids
1.2 g
*% of the reference value
Möller's Pharma high concentrate cod liver oil with a high dose vitamin D and vitamins A and E, is a great daily supplement. Take good care of yourself and your loved ones with a daily spoonful.
Möller's Pharma cod liver oil in liquid form is of the highest quality. Möller's brand is Norway's number 1 omega-3 brand****. Sourced from a sustainable MSC certified fishery in the pristine waters off Lofoten and Vesteraalen in Northern Norway, it is further refined and poured into the iconic green bottle at our facilities in Oslo.  A 100% Norwegian product. The fresh, natural raw material and a controlled value chain result in a pure high-quality product for you and your family!
Classic, natural and tasty lemon flavour from natural aroma makes the daily spoonful a pleasant experience.
Since your body doesn't produce omega-3 on it's own, you need to supply it with these nutrients via your diet. Möller's is rich in the essential fatty acids DHA and EPA, and provides a combination of vitamin A, D and E. DHA and EPA contribute to a normally functioning heart*, while DHA supports normal vision and brain function**. Vitamin A and D keep the immune system healthy, while vitamin E protects cells form oxidative stress.
Give life a healthy start! Möller's Pharma Omega-3 D+ is an ideal omega-3 source for expectant mothers during pregnancy and after birth. DHA fatty acids via the mother contribute to the normal development of the eyes and brain of the foetus and breastfed infant***. Vitamin D supports the growth and development of bones in children.
*The beneficial effect is achieved with a daily consumption of 250 mg of EPA and DHA.
**The beneficial effect is achieved with a daily consumption of 250 mg of DHA.
***The beneficial effect is obtained with a daily intake of 200 mg of DHA in addition to the recommended daily intake for omega-3 fatty acids for adults, i.e.: 250 mg DHA and EPA.
****In the sum of grocery and pharmaceutical channels. Source of data: 01850179 NielsenIQ Norway Grocery, brand "Møller's" Orkla Health segment "Omega-3" (client specific), value sales and volume sales, Full Year 2020 (week ending 52 2020) and Farmastat Jan-Nov 2020.
The recommended daily consumption for adults and children from three years is 5 ml.