Möller's Total is a rich dietary supplement containing an optimal combination of natural omega-3 fatty acids from fish oil as well as many key vitamins, minerals and antioxidants, enriched with ginseng extract. Möller's Total naturally helps you regain energy and vitality.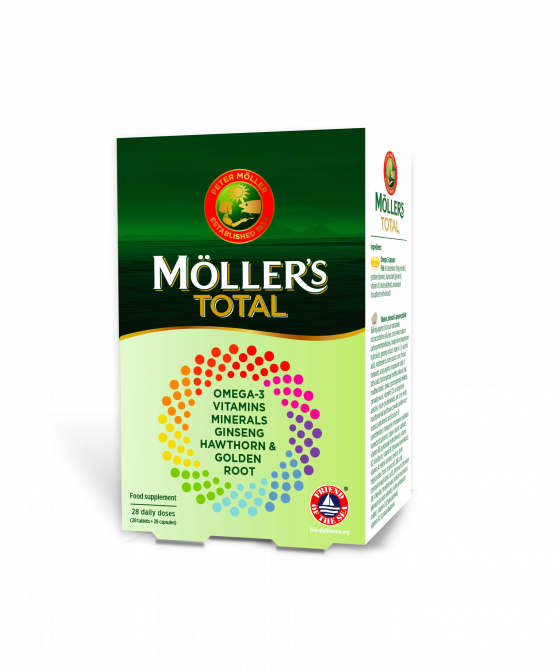 Content| Per one daily dose
Pantothenic acid (B5)
6 mg (100%*)
Vitamin B12
2.5 μg (100%*)
*% of the reference value
Ginseng root extract (Panax ginseng C.A.Meyer)
100 mg
Hawthorn leaf powder (Crataegus monogyna jacq. Or Crataegus laevigata (Pior.)DC.)
10 mg
Practically packed side-by-side and marked with the day of the week – the omega-3 fish oil capsule rich in DHA and EPA and the multivitamin tablet – it doesn't get much simpler to remember to take your daily supplements. These nutritional substances are key for a well-functioning body and help maintain good general health. Unique ingredient composition has been designed by Scandinavian specialists. It is a perfect preparation for people who lead active and intensive lifestyle, are affected with high level of stress or feel physical and mental fatigue.
Möller's Total contains the essential omega-3 fatty acids EPA and DHA, which support the normal functioning of the heart*. While DHA also maintains brain and eye function**. The multivitamin tablet contains a number of vitamins and minerals, including vitamins A, D, C, B6, B12 and selenium, which support a healthy, normal immune system. Magnesium, iron, niacin, riboflavin, vitamin B6 and B12 contribute to the reduction of tiredness and fatigue. Selenium, vitamins C and E help protect the body cells from oxidative stress. Vitamin D supports maintenance of normal bones and teeth.
The top-quality ginseng extract is standardized to high content of active ingredients – 8% of ginsenosides. Ginseng, known also as "root of life", is a natural strengthening ingredient and has been known in Asia for more than 1000 years. Invigorating activity of ginseng is well documented in scientific research.
Almond shape makes swallowing the tablet easy. The shape has been designed in cooperation with Danish Technological Institute and is documented in newest scientific research.
The product cannot be used as a substitute for a balanced diet. A balanced diet and a healthy lifestyle are essential for the proper functioning of your body.
*A beneficial effect is achieved with a daily consumption of 250 mg of EPA and DHA.
**A beneficial effect is achieved with a daily consumption of 250 mg of DHA.
**A beneficial effect is achieved with a daily consumption of 250 mg of DHA.
Ingredients
Omega-3 capsules: Fish oil concentrate (triglycerides), gelatine (bovine), humectant (glycerol), antioxidant (tocopherol-rich extract)
Multivitamin tablet: Bulking agents (dicalcium phosphate, microcrystalline cellulose, cross-linked sodium carboxymethylcellulose), magnesium (magnesium hydroxide), ginseng root extract (Panax ginseng C.A. Meyer), vitamin C (L-ascorbic acid), maltodextrin, maize starch, iron (ferrous fumarate), glazing agents (magnesium salts of fatty acids, hydroxypropyl methyl cellulose, talc, modified starch, shellac, hydroxypropyl cellulose, carnauba wax), vitamin E (DL—tocopheryl acetate), niacin (nicotinamide), zinc (zinc oxide), contains hawthorn (Crataegus monogyna Jacq.) and/or hawthorn (Crataegus laevigata (Poir) D.C.) leaf & flower powder, golden root extract (Rhodiola rosea L.), pantothenic acid (calcium-D-pantothenate), manganese (manganese sulphate), humectant (glycerol), copper (cupric sulphate), vitamin B6 (pyridoxine hydrochloride), vitamin B2 (riboflavin), vitamin B1 (thiamine mononitrate), vitamin A (retinyl acetate), medium chain triglycerides (from coconut oil), folic acid (pteroylmonoglutamic acid), chromium (chromium (III) chloride), molybdenum (sodium molybdate), selenium (sodium selenite), iodine (potassium iodide), vitamin D (cholecalciferol), vitamin B12 (cyanocobalamin)