Möller's 100% Norwegian Cod Liver Oil – the original since 1854, is rich in omega-3 and vitamins. Take good care of yourself and your loved ones – these essential nutrients support your body and daily health.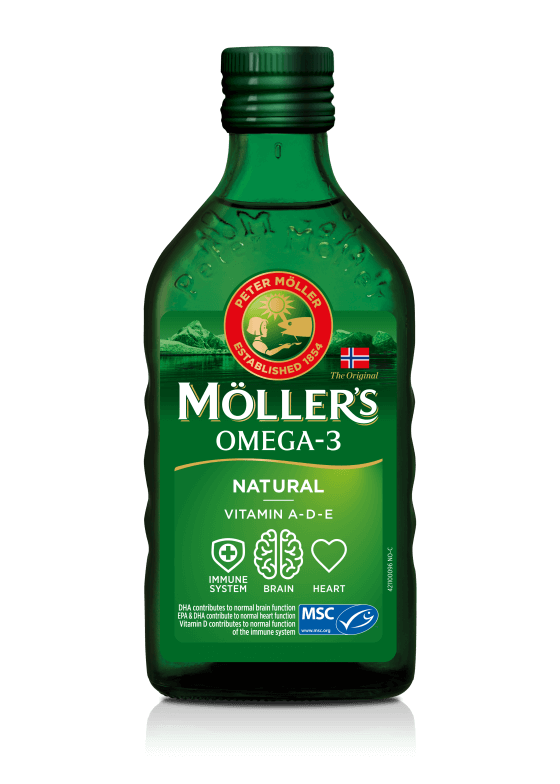 Content | in 5 ml
*Lemon flavour contains 0,5 g DHA
Möller's Cod Liver Oil in liquid form is of the highest quality and has been used and approved by families for generations. Möller's brand is Norway's number 1 omega-3 brand****. Cod liver oil is even recommended by the official Norwegian Health Authorities to pregnant and breastfeeding mothers as source of DHA omega-3 supplementation. It's sourced from a sustainable MSC certified fishery in the pristine waters off Lofoten and Vesteraalen in Northern Norway, and further refined and bottled at our plant in Oslo. A 100% Norwegian product. Fresh raw material and a controlled value chain result in the best product for you and your loved ones!
Freshness and purity is our guarantee to you! All Möller's products follow the strict freshness standards set by the Codex Standard for Fish Oils (includes Cod Liver Oils) and GOED (www.goedomega3.com). Orkla internal requirements are even stricter than these. Furthermore, all Möller's product are constantly controlled and score below EU legislation limits.
Möller's Omega-3 Cod Liver Oil is recognised by the International Taste Institute in Brussels, Belgium and has been awarded the Superior Taste Award. Tutti frutti received one star, apple received two stars and lemon received two stars in 2020. Tasty, well-masking flavours like lemon, apple and tutti frutti – all from natural aromas – make the daily spoonful a pleasant experience.
Since your body doesn't produce omega-3 on its own, you need to supply it with these nutrients via your diet. Möller's is rich in the essential fatty acids DHA and EPA, and provides a combination of vitamin A, D and E. DHA and EPA contribute to a normally functioning heart*, while DHA supports normal vision and brain function**. Vitamin A and D help keep your immune system healthy, while vitamin E protects cells form oxidative stress.
Give life a healthy start! Möller's Cod Liver Oil is an ideal omega-3 source for expectant mothers during pregnancy and after birth. DHA omega-3 fatty acids via the mother contribute to the normal development of the eyes and brain of the foetus and breastfed infant***. Vitamin D supports the growth and development of bones in children.
*The beneficial effect is achieved with a daily consumption of 250 mg EPA and DHA.
**The beneficial effect is achieved with a daily consumption of 250 mg DHA.
***The beneficial effect is obtained with a daily intake of 200 mg of DHA in addition to the recommended daily intake for omega-3 fatty acids for adults, i.e.: 250 mg DHA and EPA.
****In the sum of grocery and pharmaceutical channels. Source of data: 01850179 NielsenIQ Norway Grocery, brand "Møller's" Orkla Health segment "Omega-3" (client specific), value sales and volume sales, Full Year 2020 (week ending 52 2020) and Farmastat Jan-Nov 2020.
The recommended daily consumption for adults and children from three years is 5 ml.