The Marine Stewardship Council (MSC) (msc.org) is an international non-profit organisation. Their mission is to end overfishing and ensure that future generations can also enjoy wild seafood.
Exactly what Möller's wants as well! We are proud of what the MSC programme has done regarding the substantial challenge of overfishing.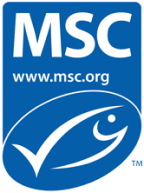 The MSC plays an important role in contributing to sustainable fishing practices. Adding the blue MSC label to all bottles of Möller's gives us the opportunity to proudly tell the story of sustainability and the provenance of this 160-year old brand. Möller's is the original Norwegian liquid omega-3 based on Arctic cod liver oil developed with passion and knowledge by pharmacist Peter Möller in 1854.
- Hege Holter Brekke, CEO at Orkla Health
Blue MSC label for the future
Möller's  uses the blue MSC label as a guarantee of sustainability and traceability.
This label is proof that the product is sourced through wild fishing independently certified according to the MSC's science-based standard for sustainable fishing.
Fully traceable
The MSC label on Möller's products is proof that its ingredients are fully traceable to a sustainable source. Responsible companies, with more than 300 fisheries in over 34 countries, carry the MSC label.
Möller's is proud to be part of this group that together produces 12 million metric tons of seafood, representing over 35 000 seafood products worldwide.
Everything caught is used
The cod liver is a by-product of skrei, thus contributing to the utilisation of the entire fish. Any left-over residue from the processing is used for biofuel and animal feed. By making by-products from by-products our supply chain is truly circular!
The history of Lofoten
The history of Lofoten
Tradition
The fabled fishing in Lofoten has been the backbone of this region's existence for thousands of years.
Fresh fish
Skrei (Northeast Arctic cod), migrates hundreds of kilometres north in the Barents Sea, from the polar ice to its preferred habitat - Lofoten.
Purity
Only the highest-quality ingredients are used in Möller's products, thanks to an extremely rigorous quality control system.
1

Quality & Control

Quality & Control

All the oil we use is thoroughly cleaned and refined in several steps and controlled up to eight times throughout the process. In fact, Möller's own rules for the purity of the product are much stricter than those required by the EU-authorities.

By using raw materials from clean ocean areas, such as Northeast Arctic cod from Lofoten, and with thorough quality and control routines in production, we guarantee the highest quality product to our consumers.
Healthy products, trustworthy information
Healthy products, trustworthy information
Ever since 1854 Möller's has strived to give consumers the best and most natural healthy products as well as reliable health information.
The fatty acids DHA and EPA, which are the main ingredients in Möller's products, are among the best documented nutrients in the world today. EPA and DHA are highly unsaturated (polyunsaturated) fats that are found in cold-water fish. Among their many benefits, both EPA and DHA help to maintain healthy functioning of the brain and retina. They also regulate cell activity and healthy cardio-vascular function.
Products with a purpose

Möller's only develops and offers products that people really need and that provide a proven positive health benefit.

;